Driveway Birobidzhan
Performance, Birobidzhan, Russia 2017
1st Tallinn´ Dogpicnic
Happening, Tallinn, Estonia 2017
For estonian, russian and other dogs.
Maotai
Unauthorized Performance
Guizhou, China 2013
HD Video, 7:21 min.
A man climbing and drinking inside a roadside monument for drinking.
aaaaaaaaaaaaaaaaaaaaaaaaaaaaaaaaaa
aaaaaaaaaaaaaaaaaaaaaaaaaaaaaaaaaa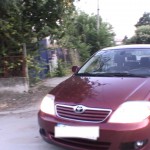 Shabla 2014
Shabla, Bulgaria 2011/14
HD Video, 1:58 min.
Various ways of mobility meeting at a intersection of a bulgarian small town.
aaaaaaaaaaaaaaaaaaaaaaaaaaaaaaaaaa
aaaaaaaaaaaaaaaaaaaaaaaaaaaaaaaaaa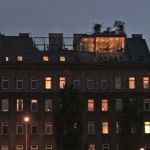 Neighbours 2
Vienna, Austria 2011
HD Video, 04:17 min.
The exclusive rooftop constructions contrast with the regular apartments below.
Lucky Day
Paris, France 2009
4:3 Video, 2:22 min.
So called "gold ring scam" filmed with hidden body cam out of the victims perspective.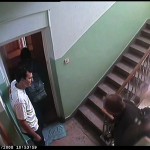 Life of Others
Unauthorized Observation
Nova Huta, Krakow, Poland 2009
4:3 Video, 7:51 min.
"Crazy guides" is a company which offers trips in old eastern-german cars. Included is the visit of a typical workers flat from previous times. A surveillance in the stairways records for two weeks the guides at work.
Decoy Duck Feeding
Malmo, Sweden 2008
4:3 Video 3:05 min.
Bird feeding, filmed by two remote controlled decoy ducks. The innocent and relaxing practice of humans to feed birds appears out of bird-perspective as a darwinistic struggle.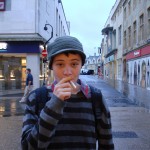 Schnorrer
2006-2009
Photoseria of people, i don´t know who asked me for a cigarette. If they let me take a photo, i gave them the cigarette. aaaaaaaaaaaaaaaaaaaaaaaaaaaaaaaaaa
aaaaaaaaaaaaaaaaaaaaaaaaaaaaaaaaaaa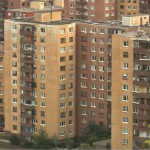 Neighbours 1
Devinska, Slovak Repulic 2008
HD Video, 10:30 min.
The video is shot from the top of a hill at the border between Slovakia and Austria. Pan-shot starts at the slovakian side (housing projects) and ends zooming in at the austrian side (baroque palace).
Augarten
Vienna, Austria 2007
4:3 Video, 11:46 min.
Observation of employees of a security service. Their daily routine of activating a siren, to inform people about the closing of the park, is disturbed by a technical incident.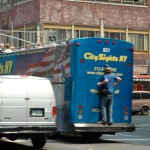 Tourist Bus Surfing
Unauthorized Performance
New York City, USA 2007
4:3 Video, 2:12 min.
Using suction-cups, the artist is surfing a touristbus in Manhattan.
aaaaaaaaaaaaaaaaaaaaaaaaaaaaaaaaaa
aaaaaaaaaaaaaaaaaaaaaaaaaaaaaaaaaa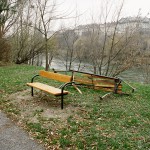 Next Generation
Vienna, Austria 2007
Photoseria of 5
New parkbenches installed by municipality. The old ones are not removed yet.aaaaaaaaaaaaaaaaaaaaaaaaaaaaaaaaaa
aaaaaaaaaaaaaaaaaaaaaaaaaaaaaaaaaa
Class Divider
Austrian Airlines 2007
Photoseria of 8
Steward, separating business and economy class, with a curtain.
aaaaaaaaaaaaaaaaaaaaaaaaaaaaaaaaaa
aaaaaaaaaaaaaaaaaaaaaaaaaaaaaaaaaa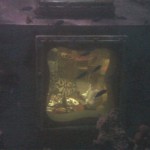 Red Sea Star
Eilat, Israel 2007
HD Video, 5:19 min
Video about underwater-gastronomy in the Red Sea.
aaaaaaaaaaaaaaaaaaaaaaaaaaaaaaaaaa
aaaaaaaaaaaaaaaaaaaaaaaaaaaaaaaaaa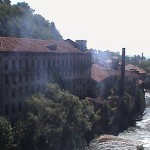 Good old times
Biella, Italy 2000
Intervention, 4:3 Video  02:30 min.
Reactivation of the chimney of an abandoned factory.
aaaaaaaaaaaaaaaaaaaaaaaaaaaaaaaaaa
aaaaaaaaaaaaaaaaaaaaaaaaaaaaaaaaaa