Kollektive Rüttelplatte/Collective Power Plate
Object: metal, electro-mechanics, 300x300x200 cm
Interactive vibration plate for up to 20 people.
Installed in Vienna, Austria
from August – December 2015
Operating time: 8 am-9 pm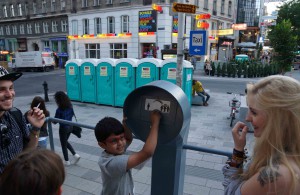 The beginnings of the vibration technology date back to the 19th century. Initially it was used to treat so-called hysteria. In the Soviet Union this technology was applied to counter the negative effects of zero gravity on cosmonauts as well as to increase the jumping strength of the Russian State Ballet. In these parts a simple application, the foot massage machine, can be found in public spaces such as the Brigittenauerbad. The vibrating standing platform improves blood circulation and relaxes the muscles. For several years the "Powerplate" has been regarded as the ultimate fitness device. Training effects comparable to those achieved without such a device can be reached in a third of the time. Despite the many variations and the long history of this principle, shaking devices have only ever been constructed for one person at a time. Moreover in socialist countries this technology was reserved for a few, select people – in our late capitalist society it provides individuals with a small advantage in the everyday competition.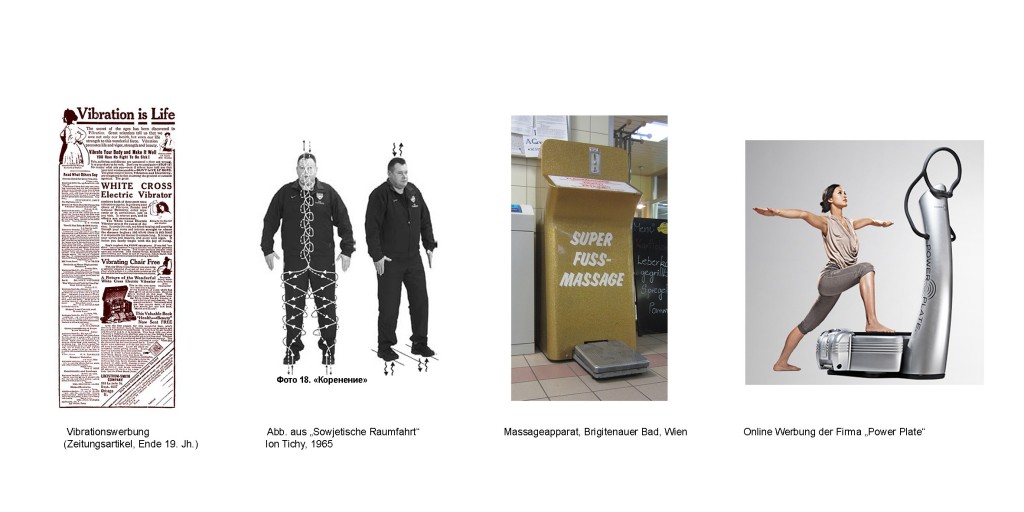 The Kollektive Rüttelplatte is a prototype of a vibration machine for up to 20 people. The self-contained shaping and relaxing of ones own body becomes a joint experience of oscillating in the same frequency.
Portraits: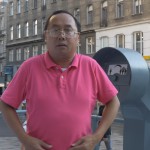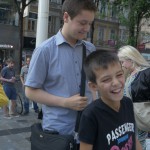 Text auf deutsch:
Die Anfänge der Vibrationstechnologie gehen bis ins 19. Jahrhundert zurück. Zunächst wurde diese Technik benutzt um sogenannte Hysterie zu behandeln, in der Sowjetunion wurde sie gegen negative Effekte der Schwerelosigkeit bei Kosmonauten, sowie zur Steigerung der Sprungkraft des Russischen Staatsballets angewendet. Eine einfache Anwendung, die Fussmassagemaschine kann hierzulande an öffentlichen Orte, wie dem Brigittenauerbad gefunden werden. Durch die vibrierende Standfläche wird die Blutzirkulation verbessert und die Muskeln entspannt. Seit einigen Jahren gilt die "Powerplate" als ultimatives Fitnessgerät, vergleichbare Trainingseffekte können in einem Drittel der Zeit erzielt werden.
Trotz den vielen Varianten und der langen Geschichte dieses Prinzips wurden rüttelnden Geräte immer nur für eine Person gebaut. In den sozialistischen Ländern war die Technik einigen ausgewählten Personen vorbehalten- in unserer spätkapitalistischen Gesellschaft steht sie für die, sich beschleunigenden Anforderungen an Körper und Geist – für miteinander im Wettbewerb stehenden Menschen.
Die "Kollektive Rüttelplatte" ist der Prototyp einer regelbare Vibrationsmaschine für bis zu 20 Personen. Das selbstzentrierte Formen und Entspannen des eigenen Körpers wird zu einer gemeinsamen Erfahrung des Schwingens in der gleichen Frequenz. Die geteilte Erfahrung von unsicherem Boden führt zu einem Trainingseffekt gestärkter kollektiver Gefühle. Buchstäblich auf eine Wellenlänge gebracht wird der Austausch und das Verständnis zwischen Fremden gefördert.
Sie ist für jedermann durch Knopfdruck aktivierbar und kostenlos  benutzbar.
Sponsored by KÖR and BKA