Kooperativer Dreh-Gong
interactive sound installation in public space in Vienna
By joint turning a star-handle an oversized metal arm is raised. When it reaches its highest point it falls and hits an iron gong which roofs the whole installation. The more people join the easier and faster the mechanism moves.
It will be on view until mid of April 2019. Operating time daily from 08:30 to 21:30 o´clock.
Comissioned by Shift Basis Wien
Place: Prater Hauptallee, next to "Meierei", A-1020 Vienna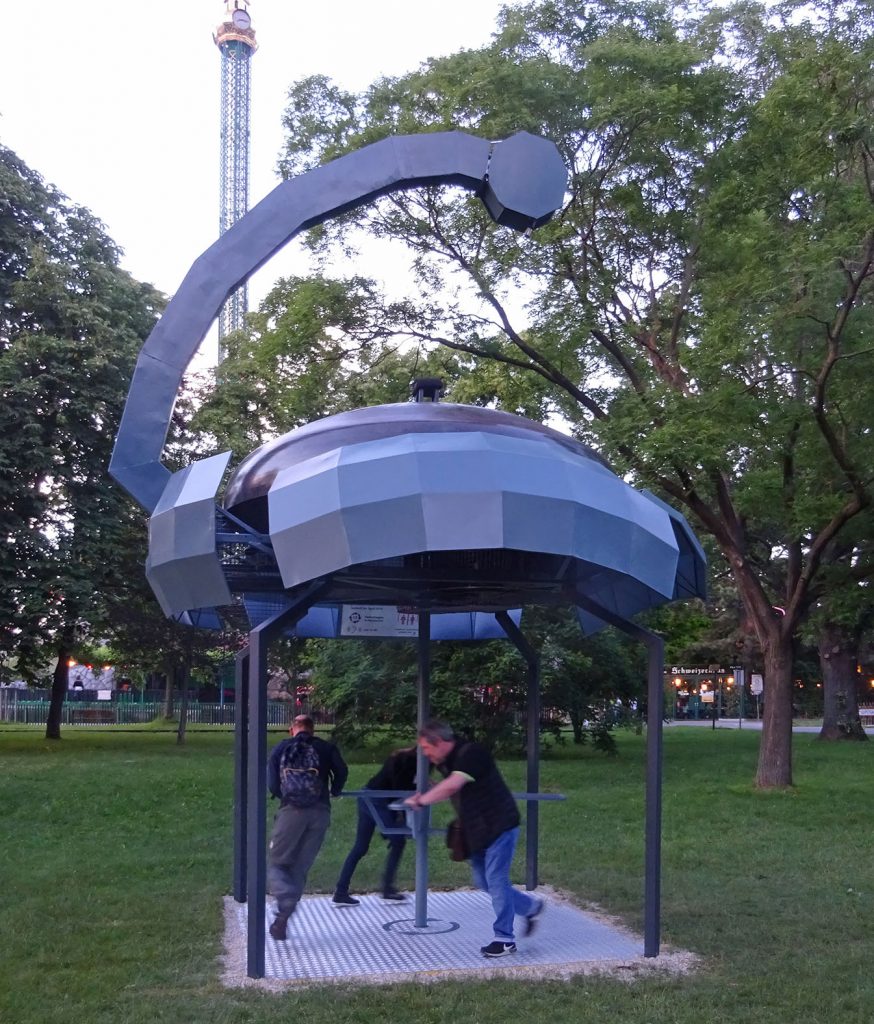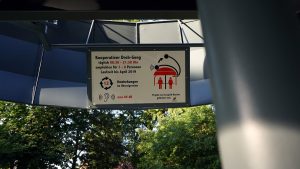 Kooperativer Dreh-Gong
Three years ago the artist Leopold Kessler installed his Collective Powerplate in public space. Pedestrians would get jiggled onto the same frequency.
Next to Viennas amusement park "Prater" Kessler installed his new work the interactive sound-installation Kooperativer Dreh-Gong (cooperative spin gong). It distinguishes in many ways from the adrenergic attractions oft the amusement park. You are not catapulted around, the object runs by human labor. The participation is free.
Also Kesslers new work deals with the ambiguity of the collective. Ability of cooperation is a central skill in our society – who hasn´t got it can easily fall behind. On one hand being restrained in the mechanism might be perceived as hurt to individuality. On the other hand gain of power by cooperation can be experienced.
Will the common aim, the sound of the gong be worth the effort? Given the endured physical stress expectations are high. It´s not determined whether the mechanism was designed to motivate people to sporting activity by offering a promise of reward. Or if human need for movement is used to generate an enigmatic signal to the public. For the users meaning is created unavoidable: As it is their energy blown off. The sound of the gong provokes a break to participants and passer-bys: the aim is achieved and everything can start from the beginning.
The project was commissioned by Shift- a programm to support innovative art by the city of Vienna.
It is located north of Praterhauptallee, next to restaurant Meierei, 1020 Vienna. It operates until mid of april 2019 daily from 08:30 until 21:30 o´clock.
Kooperativer Dreh-Gong
Vor drei Jahren installierte der Künstler Leopold Kessler seine Kollektive Rüttelplatte auf der Mariahilferstraße. Passant*innen konnten sich auf einer Vibrationsplattform gemeinsam auf eine Wellenlänge rütteln lassen. Im Wiener Prater wird Kesslers neuester Streich, die interaktive Installation Kooperativer Dreh Gong eröffnet.
Sie stellt in vielerlei Hinsicht einen Gegensatz zu den Attraktionen des angrenzenden Wurstelpraters dar: Statt passiv durch die Gegend geschleudert zu werden, erfolgt der Betrieb manuell über Muskelkraft und die Benutzung ist gratis. Statt Adrenalin auszuschütten geraten die Teilnehmer*innen ins Schwitzen. Durch das gemeinsame Bewegen eines Drehkreuzes wird ein überdimensionierter Metallarm angehoben. Erreicht er den höchsten Punkt, fällt er und schlägt einen die gesamte Installation überdachenden Eisengong an. Das Drehkreuz bewegt sich umso leichter bzw. schneller, je mehr Menschen sich beteiligen.
Auch mit seiner neuen Arbeit thematisiert der Künstler die Ambivalenz des Gemeinschaftlichen. Die Fähigkeit zur Kooperation ist im heutigen Gesellschaftssystem eine Kernkompetenz – wer sie nicht hat gerät schnell ins Abseits. Das Eingespannt sein in den Mechanismus kann als Kränkung der eigenen Individualität empfunden werden. Andererseits erlebt man die Kraft, die durch die Zusammenarbeit entsteht.
Wird das gemeinsame Ziel, der Klang des Gongs für die ausgestandenen Mühen entschädigen? Angesichts der ausgestandenen Strapazen sind die Erwartungen hoch. Es bleibt offen, ob der Mechanismus konzipiert wurde, um Menschen durch die Aussicht auf Belohnung zu sportlicher Aktivität anzuregen, oder ob der menschliche Bewegungsdrang für ein hintergründiges Signal an die Allgemeinheit genützt wird. In jedem Fall entsteht für die Benutzer*innen zwangsläufig eine Bedeutung: Schließlich ist es ihre Energie, die verpufft. Der Gongschlag bewirkt eine Zäsur für Teilnehmer*innen und Passant*innen – das Ziel ist erreicht. Und alles kann von vorne losgehen.
Der Kooperative Dreh Gong wurde aus Mitteln des Förderprogramms Shift der Stadt Wien finanziert. Die Installation befindet sich nördlich der Praterhauptallee, auf der Wiese neben dem Restaurant Meierei. Sie ist bis Mitte April 2019 täglich von 08:30 bis 21:30 Uhr benutzbar.